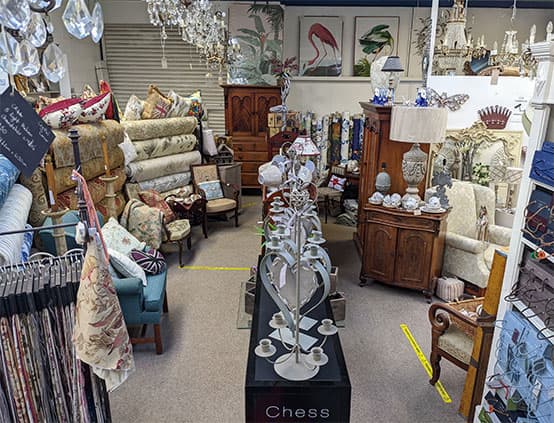 We are a family run business based in the North East of England. Founded in 2005, we have over 100 years of combined experience in the textiles industry. We have a passion for all things fabric, wallpaper, and home furnishings.
Customized made to measure curtains, voiles and Roman blinds.
Made to measure valances & pelmets including swags and tails, stiff or wooden pelmets & soft gathered pelmets.
Accessory make up services for cushions, loose covers and more.
Table cloths, bed throws and bed valances make up services.
Interior design consultations and home visits.
Measure and fitting services for poles, tracks, pelmets, curtains and blinds.
Founder Yvette always loved designer fabrics but not the £100-a-metre price tag that accompanied them. However, after a chance encounter with a supplier, she saw the opportunity to start her own business selling luxury textiles at a fraction of the price. That business became Absolutely Fabrics.
Since then the business has grown to enable us to open accounts with many designer & mainstream brands, over 50 in fact.
We also secure one-off rolls and high-quality seconds of fabrics from around the world that would ordinarily retail for between £50 and £300 a metre, but are available as seconds or dead-stock at Absolutely Fabrics for between £10 and £60 a metre.
We have been trading since 2005 and have grown from a 60 square metre unit to over 600 square metres of fabulous fabric, wallpaper, lighting, furniture and giftware.
We officially offer interior design services! Here at Absolutely fabrics we have a fantastic team of interior designers that are available, by appointment to help dress, furnish and style your home or business.
Having such an extensive supply of fabrics, wallpapers, paints and furniture, allows us to create almost any desired style or theme.
Our experienced group of designers cater for both in-store and on-site consultations.
Simply contact the store to find out more about prices and availability.
Our goal is to provide rare and wonderful textiles. We provide interiors at both affordable prices and also top designer brands. We have thousands of fabrics rolls in-store, including current fabrics, designer seconds and discontinued fabrics.
We can also transform any of our products into personalised, made to measure home accessories and decorations. We strive to provide the best help and support for our customers, offering design advice in-store and on home visits with our specialist.
We can also provide a full design service, from small domestic to large commercial and renovation projects.
All our staff come from different areas of the textiles industry allowing us to offer insight from multiple different disciplines, such as curtain make-up, dress making, upholstery, interior design and more.
We are all more than happy to share our experience with our customers in order to help and guide you to the best possible solutions for your needs.
Absolutely Fabrics was founded on the idea of repurposing and supplying slight second or discontinued designer fabrics. In the past these manufacturers warehouse clearances would have shipped dead stock abroad and deposited it in landfill.
Now, through suppliers like us they have a chance to become beautiful bespoke soft furnishings at a fraction of their RRP. Our aim is to reduce fabric waste in the industry whilst supporting and supplying current designers. We pride ourselves on using local tradesmen and seamstresses, helping reduce our carbon footprint and supporting our local economy. And, while there are still environmental changes to be made in the industry, many of our fabric suppliers are branching out into more environmentally friendly fabric compositions and manufacturing methods. We are excited to support the industry to develop and become more sustainable.